AKC, ASDCA, CKC, FIC, IABCA Int., Nat'l and Honor, UAG and UKC Champion
Alaturka's Kafadar of Tamoora, CGC
(CKC's Top Dog Ranking #3 in the Working Group for 1999) Kafadar has 10-show champion titles!!
Finished his AKC Championship in 3 months!
AKC Ranking No. 2 ASD in 1999, 2000, No. 1-2 in 2001
2 x Regional Specialty Breed Winner!! Award of Merit - ASDCA NATIONAL SPECIALTY
Multiple AKC Working Group Placements - 1st Anatolian EUKANUBA CLASSIC BREED WINNER!
PROVEN- PRODUCER OF AKC Champions and AKC Working Group Placement OFFSPRING AND ONE (1) - UKC BEST IN SHOW OFFSPRING!!!
His offspring now have AKC Working Groups placements and multiple Specialty Winners, No. 3-4 AKC Ranked in 2003...
Sire of 18 AKC champions to date.!!!! (no other male ASD has sired 18 Champions to date)!!
WINNER OF SIRE OF MERIT AND SIRE OF DISTINCTION AWARDS!!
AKC Three-Generation Pedigree
Havuz Tarak
Kayan's Toraman
Cream of Sakarya
Sire: Senflowers Savasci
Capar of Sakarya
Sakarya's Reva
Almila of Bozuyuk
+++++++++++++++++++++++++++++++++++++++++++++++++++++++++++++++
Capar of Sakarya
Ahmet of Avanos
Sivas of Avanos
Dam: Whirling Dervish Tilki Bayan of Alaturka
Omar of San Miguel
Maranda's Saz Mevlana
Sabah Cay of Kasabasi
OFA Cert No: ANS-738G25M-T (Good)
Thyroid Normal
AKC, ASDCA, UKC, CKC and FIC Registered
14 years old , 32"and 145 pounds-DECEASED
Gentle guardian temperament, PROVEN-sire of working livestock guardian pups AKC-DNA profiled

NO OUTSIDE STUD SERVICE AVAILABLE.....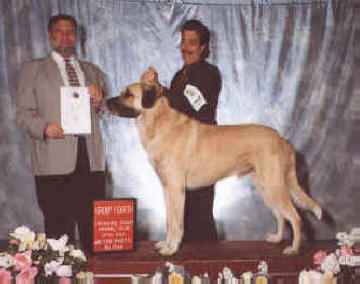 Ch. Alaturka's Kafadar of Tamoora (multiple Working Group Placements AKC)!
E-mail: Tamoora@aol.com